Founders Day: A Celebration of Urbanna's Colonial History
Saturday, August 5, 2023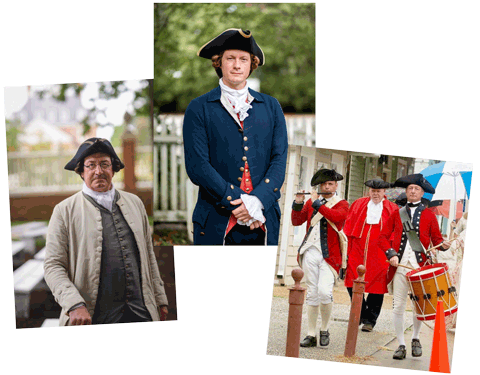 Colonial style fife and drum musicians and the "town crier" will open the day's festivities in the heart of Urbanna at the Women's Club at 10:15am.
At 11am, Colonial Williamsburg re-enactors, Patrick Henry, and Thomas Jefferson, will engage in a lively and realistic and entertaining debate over the "Separation of Church and State" held at the historic Urbanna Baptist Church, 121 Watling Street, Urbanna, VA.
The James Mills Scottish Factor Store and Town Museum will be open from 11am to 4pm featuring historian, Barbara Lovelace, sharing the history of the Scottish Factor Store, the last remaining one of its kind in the country. And view the Mitchell Map, declared by the Library of Congress to be one of the most important maps in our country's history. You will be guided through the map's creation and uses by one of the Museum docents. Enjoy a stroll in the colonial time Medicinal Garden in the back lawn of the Museum.
Wander down to the Urbanna Town Dock to view and tour the Luna, a 1768 replica sloop. Guided tours by period costumed guides will offer information on the ship and its purpose in colonial times. The Luna will be in the docks all weekend.
At the corner of Cross and Virginia Streets, you will find the Explorer. A replica of the Shallop used by John Smith in his explorations of the Chesapeake Bay and tributary rivers. You are invited to visit with "Anas Todkill" (a Jamestown re-enactor) at his encampment alongside the Explorer. Todkill is a well-documented traveler with Smith on his explorations.
In the center of town, The Women's Club (one of only 11 remaining Colonial Courthouses still standing) will be open for tours from 11am to 3pm; the historic colonial residence Landsdowne will be open for tours from 12:30pm to 3pm with a children's story time on their front lawn at 1:30pm.
Come enjoy all the colonial events of the day in the quaint and historic town of Urbanna with its friendly and welcoming people, several excellent restaurants and multiple unique boutique shops.
Sponsored by Friends of Urbanna, River Counties Community Foundation, the Town of Urbanna, Urbanna Business Association, and private donors.
Photo credit: The Colonial Williamsburg Foundation
Click Here to Make a Tax Deductible Donation