The Friends of Urbanna, a 501(c)(3) charitable organization, is dedicated to preserving, promoting, and educating the local community and visitors on the deep and rich history of Urbanna and the surrounding areas.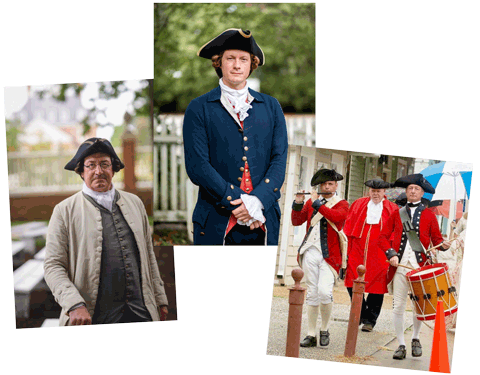 The Urbanna Town Council has appointed the Friends of Urbanna as the primary advisory group to the Town on the continuing development and preservation of its one-of-a-kind 1765 Scottish Factor Store Museum, now serving as Urbanna's Visitor Center.
Our education and preservation activities center on interpreting the James Mills Scottish Factor Store, which served as the major economic engine in colonial Urbanna and the surrounding area. Within the Store is a restored first edition, third impression of the John Mitchell Map, printed in 1755. This significant document was declared by The Library of Congress to be "the most important map in American history."
The restoration of the Scottish Factor Store to its 18th century form and function is an ongoing project, guided by professional assessments and recommendations of nationally recognized historic preservation and planning architects. The success of this project will enhance Urbanna and Middlesex County's educational value to the public and its importance as a showcase of colonial America.
The Friends of Urbanna have sponsored the annual Founders Day program since 2014. Held on the first Saturday in August, this event celebrates our colonial history and presents educational programs for all. In 2022, we partnered with Colonial Williamsburg to host interpreters "Patrick Henry" and "George Wythe" to debate the Constitution. In 2023, "Thomas Jefferson" and "Patrick Henry" will lead a debate about the separation of church and state. An additional partnership with the Deltaville Maritime Museum brings the Luna and Explorer to this colonial celebration. These ships are accurate replicas of ships used by the well-known 17th century explorer, John Smith, and 18th century merchants to import and export goods through Urbanna Harbor. Click here for complete details of our 2023 Founders Day.
Many of our organization's efforts are aimed at introducing young people and children to our valuable colonial history through education and interpretive programs, essay contests, and special events.
Ongoing education, interpretive, and restoration activities keep a small group of dedicated and enthusiastic volunteers busy throughout the year. All endeavors are supported by grant and private donations. If you would like to assist in this work, click on our donate button below. We appreciate your interest and support.
Click Here to Make a Tax Deductible Donation
Photo credit: The Colonial Williamsburg Foundation